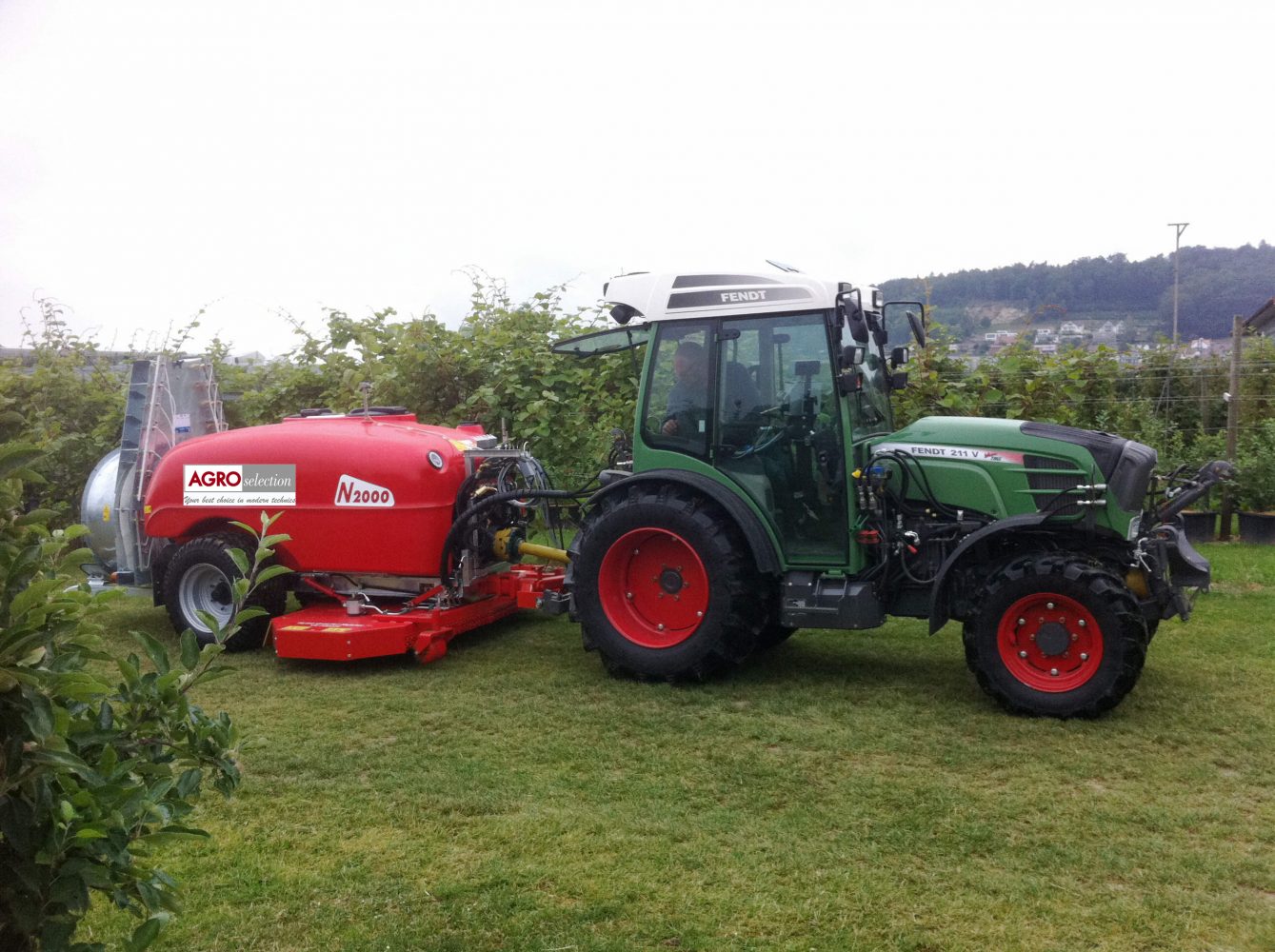 Sprayers with cross-axial blowers.
32″, 36″ and 42″ diameter
Better positioning – targeted air supply guarantees low wear and less loss of spraying liquid, therefore environmentally friendly and efficient.
Capacity:
1000 liters
1500 liters
2000 liters
Air blower design
Galvanized housing
Low energy consumption and low noise level due to special aerodynamic wing
Optimum performance by direct air suction
Nozzles are outside the air flow
2 – step transmission with zero position
Separate anti-drip nozzles rotatable and removable
Optional nozzles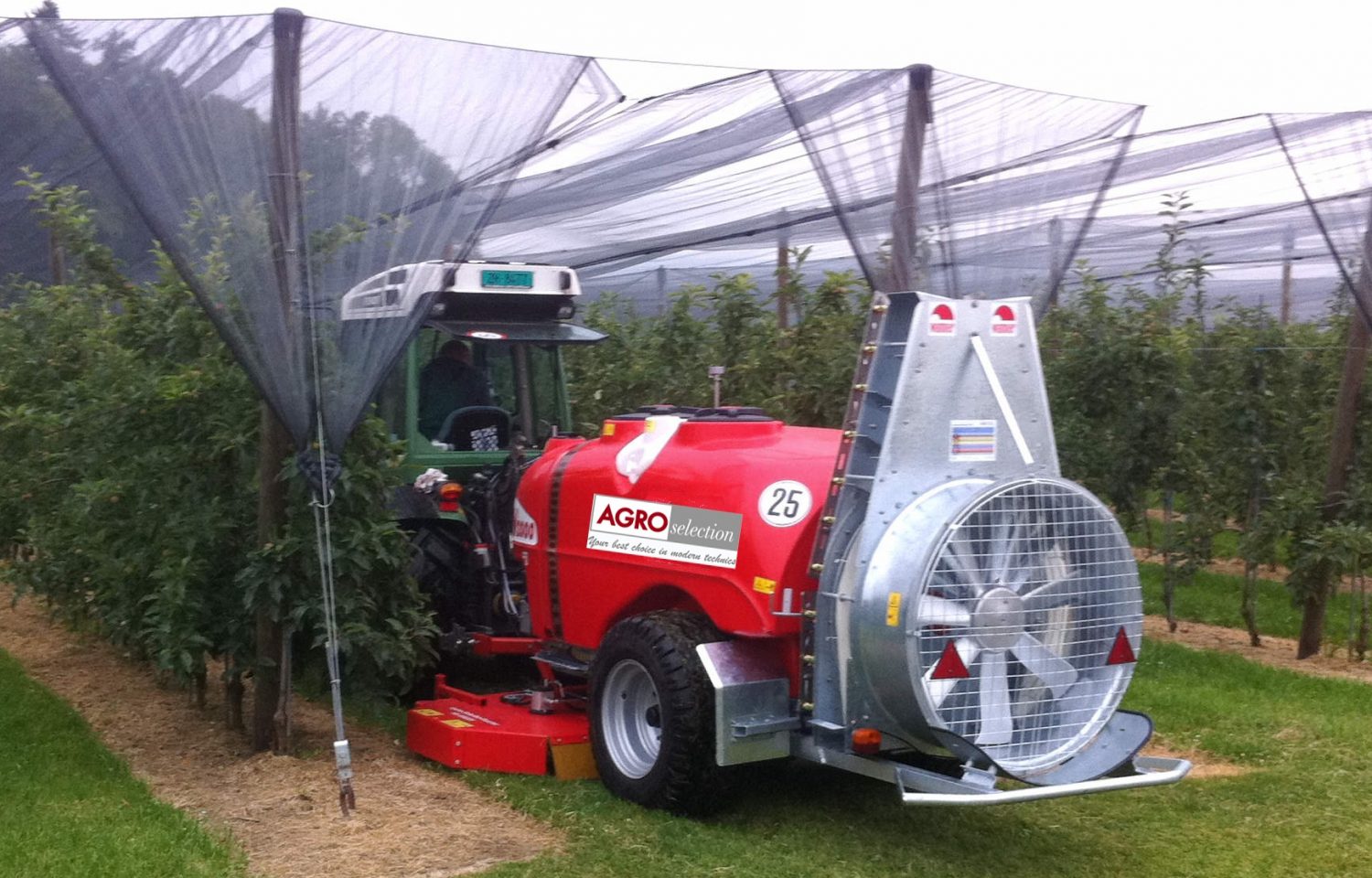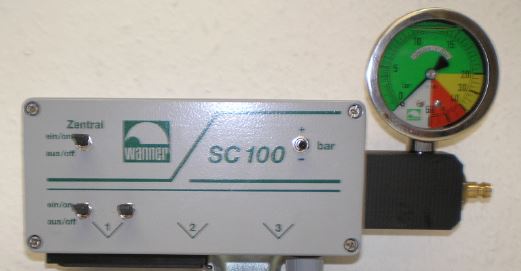 Additional equipment
Electric remote control SC10/E2 to E4 with 2 or 4 boom sections, solenoid valves and mechanical pressure regulator
Electric remote control SC100/E2 up to E6 with 2,4 or 6 boom sections, solenoid valves and electric pressure regulator, pressure indication in tractor cab
Electric remote control SC100/E2 to E6 with LCD display and touch screen, digital pressure and liquid level indicator, 2 – 8 boom sections possible
Spray control computer SPRAYDOS or SC100RC, 2 – 8 boom sections possible (SC100RC is equipped in the same way as SC100CE, but only as a control unit).
Different tire options
Double or triple anti-drip nozzles
Injector nozzles
Single-sided fan cover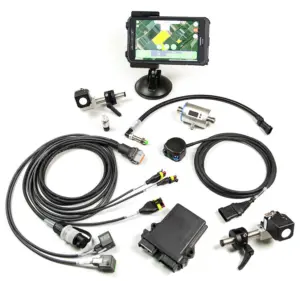 (The tablet and tablet holder are not included).
Additional equipment
CLEVERSPRAY

PRO 

Fully automatic control and spraying system

Upgrade your sprayer to the latest spraying technology with innovative sensors and control technologies,
smart applications and a real-time IoT platform.
Control box
Cable set
Flow sensor
Pressure sensor
2 speed sensors
2 distance sensors (SSC)
Keypad
SSC kit Section control
Free access to the farmunited Cloud service
(data exchange, control, digital spray diary)
Regular software updates
Automatic free software updates
Standard equipment
Robust galvanized frame construction
Adjustable axle
Supplied with PTO shaft
Fiberglass tank with optimally positioned air inlets and integrated water tank for rinsing the tank, switchable "spraying" / "rinsing" even if the tank is filled to the maximum or partially, level indicator, agitator, two filling holes with filter, hand washing tank with drain cock
Filters: mesh filter, suction filter with automatic shut-off, pressure filter with quick cleaning, tool-free maintenance
Diaphragm piston pump: Type "IDS1401" (140l./50 bar)
Control devices: mechanical remote control type "MSC CD13", central shut-off, boom section switch (two sections), pressure adjustment from the tractor cab, with pressure gauge
Type

Output
(m³/h)

Pump
(l/bar)

Nozzles
Quantity

Empty weight
(kg)

Row spacing min.
(м)

Row spacing max.
(м)

Cultural processing height max.
(м)

K32GA/1000-140
38./45.000
140/50
16
1.8
5
5
K32GA/1500-140
38./45.000
140/50
16
1.8
5
5
K32GA/2000-140
38./45.000
140/50
16
1.8
5
5
K36GA/1000-140
45./60.000
140/50
16
707
1.8
5
4.5
K36GA/1500-140
45./60.000
140/50
16
733
1.8
5
4.5
K36GA/2000-140
45./60.000
140/50
16
893
1.8
5
4.5
K42GA/1000-140
80./105.000
140/50
16
725
1.8
7
6
K42GA/1500-140
80./105.000
140/50
16
750
1.8
7
6
K42GA/2000-140
80./105.000
140/50
16
905
1.8
7
6
All specifications and weights are approximate and not binding and are not binding. Technical changes in the interest of progress are at our discretion.
Video
If the video doesn't play in your browser, click on the title of the video and watch it on YouTube.